Our "Thanks Offering" to the Lord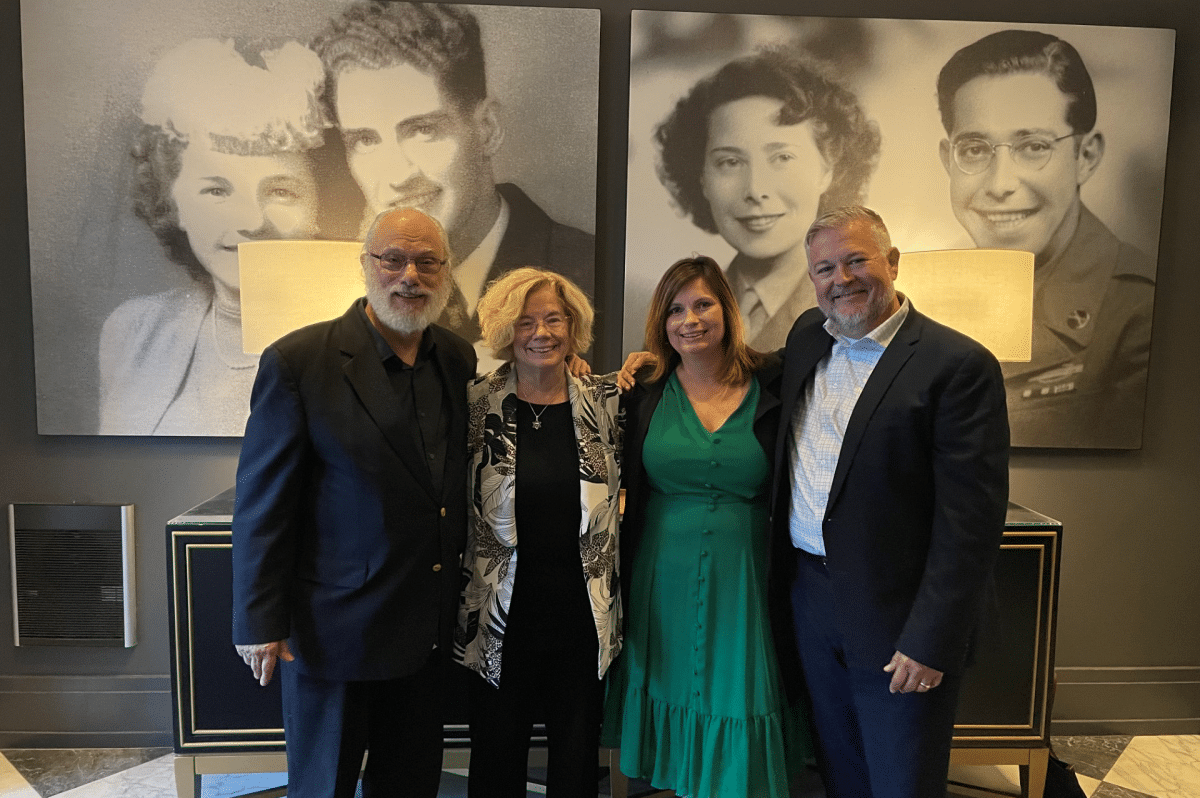 Giving of Ourselves
50 years! This June, Miriam and I celebrated our golden Anniversary. For us, it also marks our half a century of service to the Lord as a couple. Rather than a typical Anniversary vacation, we desired to serve Yeshua and His people by giving ourselves away in more service as our "thanks offering" to Him. The Lord provided us with several venues to freely give ourselves.
The Year of Jubilee!
First stop: Richmond, VA, Sunday, June 4. Calvary Chapel and their pastor have long supported Word of Messiah's ministry to the Jewish people; and I have been an encourager of their pastor, Tim White, who is an outstanding leader for that congregation. I spoke about the biblical 50th celebration: the Year of Jubilee—a time of restoration, renewal, and the proclamation of liberty! That liberty is a result of the Atonement and is found and fulfilled in Yeshua the Messiah –He is our Jubilee! (This message would be the theme of the week.) In response to God's gracious invitation, two people accepted Messiah, and freedom from the penalty and power of sin He provides in His finished work!
God's Everlasting Love for Israel
Next stop, Chambersburg, PA, Wednesday, June 7. Chambersburg Bible Church was Miriam's sending church when she first began working in Jewish outreach ministry several years before she and I met and were later married. We reported to the Missions committee on all the Lord has been accomplishing; there was much praise for Him! I then spoke to their filled chapel on God's Everlasting Love for Israel.
More People Saved!
Third stop, Roanoke, VA, Shabbat, June 10. We then returned to Virginia where we had the joy of speaking at a Word of Messiah plant—Hope of Israel in Roanoke, now 8 years old, led by their wonderful congregation leader, Karl "Tony" Mardian. I gave the Shabbat morning message, and three people responded to the invitation to trust in Messiah.
Why Messianic Congregations?
Fourth and final stop, Lynchburg, VA, June 10-11. On Saturday evening, 25-30 curious people gathered in Lynchburg, VA, for an interactive evening designed to explain why Lynchburg needs a Messianic congregation. I spoke on "Why Messianic Congregations?" and I addressed the reason for four different interests: the Greater Body of Messiah (aka, Church), the Greater Jewish Community, the Jewish believer in Messiah, and the Gentile believer in Messiah.
To the Jew First
Then the group engaged in a lively Q&A session. Some asked about the size of the local Jewish community (about 1000); some asked about the Law (all scripture is inspired and profitable), etc. It's hard for people to understand that wherever Paul went, even in Philippi which didn't have enough Jews (i.e., ten Jewish men) to form a traditional synagogue, he planted Messianic congregations (see Acts 20:6). For the apostles, the Messianic congregation was the assumed expression of the Messianic faith, for believers were and are called "to the Jew first" (Romans 1;16). And all those congregations established by Paul only had the Tanach (i.e., Hebrew Scriptures) to use for their study (see 1 Cor 4:6; 2 Tim 3:14-17, etc), for the New Covenant writings were just beginning to be written!
Lynchburg, VA
One woman in attendance has been praying for ten years that God would plant a Messianic congregation in Lynchburg. For her, and many others, it's exciting as the answer to prayer is coming to fruition!
On Sunday morning, ten "family units" (singles, couples [some with children]) who have committed themselves in prayer and service to be the core of this new Lynchburg congregation, met for several more hours of training with us as well as Karl (Tony) & Michelle Mardian (from the Roanoke congregation.)
Yeshua's Custom
This core group reviewed the two ways to answer curious people on why a Messianic congregation, in a simple and deeper method. The simple way of why we want a Messianic congregation is by reading Luke 4:16, "as was His custom, Yeshua went to synagogue on the Sabbath." We follow Messiah; His custom is our custom. (The same word "custom" is used in Hebrews 10:25 about the custom of "assembling together" evidently on Shabbat.) The deeper understanding of why we are called to have a Messianic congregation in Lynchburg is reading Romans 11:1, 11-14, 30-31, 24).
Discipling Preparation
The group also learned about the necessity of creating solid DNA for this new congregation plant through Prayer, Evangelism/Outreach, and Discipleship. This leadership core will begin using Word of Messiah discipleship materials to disciple each other in preparation for discipling newcomers once the fellowship starts its monthly outreach meetings.
Please Join us in Prayer for…
– the salvation of souls through their outreach as the Lord of the Harvest has individuals and families ready to hear about Messiah.
– the Lord to bring several more believing family units to this core to be discipled so they can go from a fellowship to a congregation.
– Karl, as he continues to mentor and assist in the development of Messiah's congregation in Lynchburg!
– A Developing Healthy Messianic Congregations Boot Camp to be scheduled soon to further immerse and nurture this core group in Lynchburg.
It was a blessed 50th Anniversary unto the Lord, and our 50th Jubilee year is just beginning!